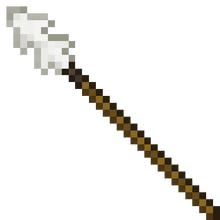 Fishing Spears are an item that can be obtained through Snow Villager trading. It has 64 durability.
Use:
The Fishing Spear can be used to catch any of the four Minecraft fish, but cannot catch any Junk or Treasures like a fishing rod. When the player is near water, the Fishing spear must be drawn back like a bow, and pointed at the water. On release, one fish will be added to the inventory of the player, and one durability removed from the fishing spear.
Enchantments:
The Fishing Spear can be combined with Enchanted Books of Mending, Curse of Vanishing, or Unbreaking. It cannot be enchanted at an enchanting table.
Community content is available under
CC-BY-SA
unless otherwise noted.